Monterey Bay Whale Watch
Map of Marine Mammal Sightings in the Monterey Bay Region
April 1-30, 2003
compiled by Richard Ternullo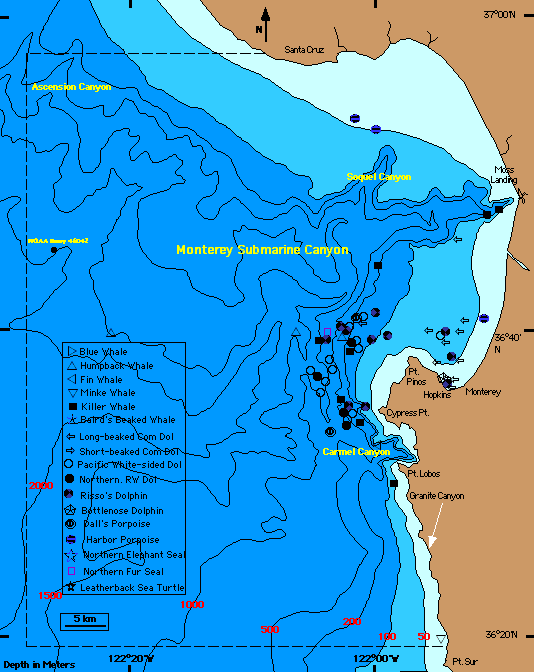 Note: Gray whales are not plotted on the chart. Numerous California Sea Lions, Harbor Seals, and Southern Sea Otters are seen on all trips, and are not plotted on the chart.


Killer Whale Activity Observed:
April 1: About 20 transients were observed passing a Northern Elephant Seal and apparently chasing and tossing several Pacific White-sided Dolphins into the air. There was no evidence of a kill.
April 19: A group of transients, including CA44, 41, 137 and 165, attacked and killed a Gray Whale calf. The next day members of the group were observed, apparently feeding on the April 19 kill.
April 23: A group of transients including CA137, 26 and 165 killed a Gray Whale.
April 27: A transient group including CA27, 54, 25, 30 (Ted & Charlie), 20 and 52 were involved in what may have been a Gray Whale kill.

About 500 California Sea Lions are on the Monterey Breakwater.

Pacific Harbor Seals and Southern Sea Otters have been observed from Monterey Harbor to Pt. Lobos and in Elkhorn Slough.

Click for April 2003 daily sightings list (corresponding to map above).

The sightings plotted above were compiled by Richard Ternullo for the period 4/1/03 to 4/30/03.

Sightings reported by M. Baxter, D. Davi, D. Lemon, N. Lemon, T. Lorenz, Monterey Bay Whale Watch, H. Neece, L. Oliver, H. Tiura, R/V Zephyr, J. Williamson, W. Williamson, A. J. Young.

Copyright © 2003 R. Ternullo. No reproduction of the map or use of the sightings information is permitted without prior approval.

| | |
| --- | --- |
| | Sightings Map 4/1-4/30/03 |
Monterey Bay Whale Watch, LLC
84 Fisherman's Wharf
Monterey, CA 93940
Phone 831-375-4658
E-mail whaletrips@gowhales.com
Copyright © 2003 Richard Ternullo
Last updated August 27, 2005