Monterey Bay Whale Watch
Map of Marine Mammal Sightings in the Monterey Bay Region
March 1-31, 2003
compiled by Richard Ternullo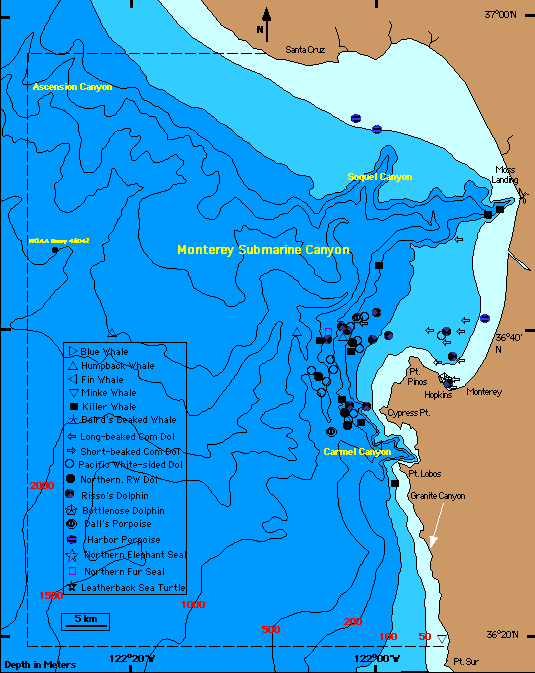 Note: Gray whales are not plotted on the chart. Numerous California Sea Lions, Harbor Seals, and Southern Sea Otters are seen on all trips, and are not plotted on the chart.


The peak of the northbound Gray Whale migration was during the middle of March, followed by an unexpectedly steep decline in sightings. By April nearly all sightings were of mother/calf pairs. These pairs should continue to be seen very close inshore until about the last week of May.

On March 3 a gray whale kill may have been associated with a sighting of about ten Killer Whales. Several of the Killer Whales were identified as CA41, 44 (an adolescent male), 41, 52, and 111.

The March 13 viewing of about 30 Killer Whales was the second detection of the Southern Puget Sound Residents in Central Californian waters. The identification is from observers seeing open saddle patches and characteristic behavior patterns. One identifiable photograph by a passenger clearly shows L71 (an adolescent male). Refer to the March 2003 Feature to see this photo and learn more about this unusual sighting.

The humpback whale observed on March 29 appeared to be entangled in crab pot gear.

About 300-1000 California Sea Lions are present in Monterey Bay and on the breakwater.

Pacific Harbor Seals and Southern Sea Otters have been observed from Monterey Harbor to Pt. Lobos and in Elkhorn Slough.

Click for March 2003 daily sightings list (corresponding to map above).

The sightings plotted above were compiled by Richard Ternullo for the period 3/1/03 to 3/31/03.

Sightings reported by B. Austin, D. Davi, G. Fisher, F/V Donna Kathleen, D. Lemon, N. Lemon, Monterey Bay Whale Watch, S. Munro, H. Neece, L. Oliver, T. Lorenz, R. Ternullo, H. Tiura, J. Williamson, K. Whitaker, and an unknown observer.

Copyright © 2003 R. Ternullo. No reproduction of the map or use of the sightings information is permitted without prior approval.

| | |
| --- | --- |
| | Sightings Map 3/1-3/31/03 |
Monterey Bay Whale Watch, LLC
84 Fisherman's Wharf
Monterey, CA 93940
Phone 831-375-4658
E-mail whaletrips@gowhales.com
Copyright © 2003 Richard Ternullo
Last updated April 27, 2003