Monterey Bay Whale Watch
Map of Marine Mammal Sightings in the Monterey Bay Region
January 1-31, 2003
compiled by Richard Ternullo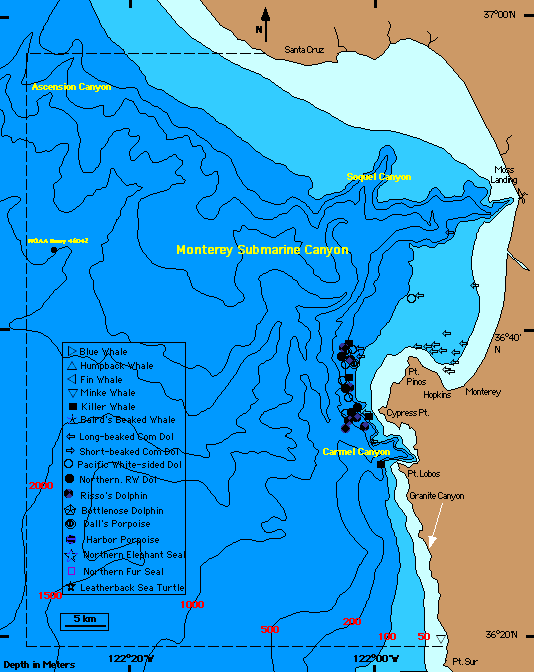 Note: Gray whales are not plotted on the chart. Numerous California Sea Lions, Harbor Seals, and Southern Sea Otters are seen on all trips, and are not plotted on the chart.


The peak of the southbound Gray Whale migration occured by mid-January. There will be a decline in sightings until the second week in February when the first northbound whales should be detected.
The first of four cow/calf observations was recorded on January 12.

On Jan. 16 a single male Killer Whale was observed killing and eating a California Sea Lion. On January 30 two male Killer Whales elicited a moderate response from nearby Gray Whales. These Killer Whales are of the transient ecotype and have been seen to kill and eat Gray Whale calves. Their designations are CA 25 and CA 30 (a.k.a. Ted and Charlie). Presumably they are brothers due to their high association pattern and strong tendency to travel together, although there is a high likelihood other components of the transient community are present.

On January 13 a group of Risso's Dolphins were observed harassing a cow/calf pair of Gray Whales. The calf appeared to be a recent newborn. On Jan. 18 a large group of Risso's Dolphins were seen harassing several Gray Whales.

Up to 1000 California Sea Lions have been present on Monterey Breakwater, but their numbers have drastically decreased recently.

Pacific Harbor Seals and Southern Sea Otters have been observed from Monterey Harbor to Pt. Lobos and in Elkhorn Slough.

Click for January 2003 daily sightings list (corresponding to map above).

The sightings plotted above were compiled by Richard Ternullo for the period 1/1/03 to 1/31/03.

Sightings reported by J. Aliotti, R. Aliotti, B. Cutting, T. Lorenz, Monterey Bay Whale Watch, S. Munro, H. Neece, L. Oliver, D. Riens, J. Williamson.

Copyright © 2003 R. Ternullo. No reproduction of the map or use of the sightings information is permitted without prior approval.

| | |
| --- | --- |
| | Sightings Map 1/1-1/31/03 |
Monterey Bay Whale Watch, LLC
84 Fisherman's Wharf
Monterey, CA 93940
Phone 831-375-4658
E-mail whaletrips@gowhales.com
Copyright © 2003 Richard Ternullo
Last updated February 18, 2003