Monterey Bay Whale Watch
Map of Marine Mammal Sightings in the Monterey Bay Region
November 1-30, 2002
compiled by Richard Ternullo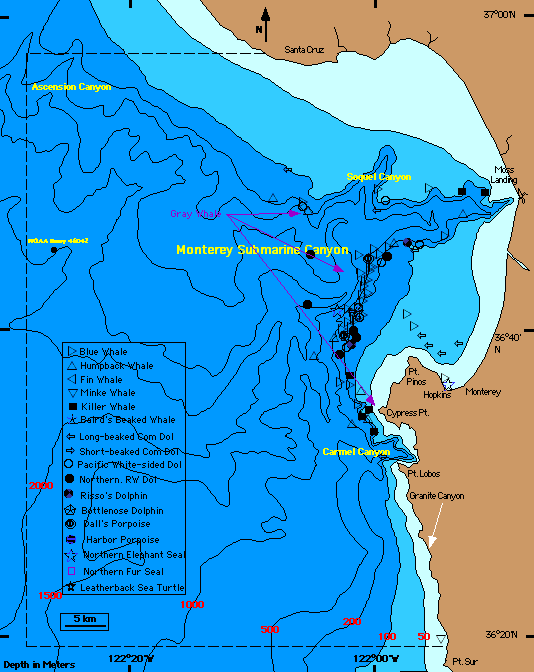 Note: Gray whales are not plotted on the chart. Numerous California Sea Lions, Harbor Seals, and Southern Sea Otters are seen on all trips, and are not plotted on the chart.


Over 50 humpback whales were observed on November 7. This was a mass movement perhaps not related to a migratory trend but rather a last effort at locating a final feeding area. Sightings of humpback whales declined later in the month as the whales moved south.

Gray whales observed on Nov. 30 may have detected Killer Whales in the area and turned north. They later stopped at Pt. Pinos and engaged in friendly behavior with whale watching boats and the Pt. Pinos buoy! By next month these whales will be the most frequently sighted large cetacean on Monterey Bay.

Click for November 2002 daily sightings list (corresponding to map above).

The sightings plotted above were compiled by Richard Ternullo for the period 11/1/02 to 11/30/02.

Sightings reported by D. Davi, N. Lemon, T. Lorenz, Monterey Bay Whale Watch, S. Munro, H. Neece, L. Oliver, J. Williamson, W. Williamson.

Copyright © 2003 R. Ternullo. No reproduction of the map or use of the sightings information is permitted without prior approval.

| | |
| --- | --- |
| | Sightings Map 11/1-12/30/02 |
Monterey Bay Whale Watch, LLC
84 Fisherman's Wharf
Monterey, CA 93940
Phone 831-375-4658
E-mail whaletrips@gowhales.com
Copyright © 2003 Richard Ternullo
Last updated January 28, 2003